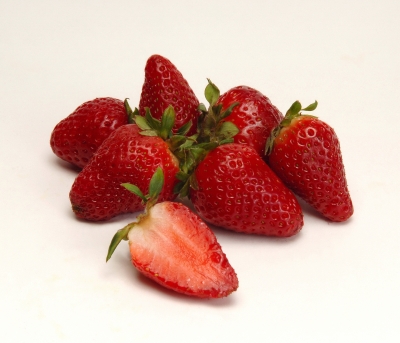 Party guest, Stacey loved my featured mocktail (Gold Medalist) so much that she went home to recreate it right away (as did party guest, Amber).  But, alas, this frosty treat isn't exactly figure friendly.   So, determined to come up with a more health-conscious version, Stacey mixed up the following recipe for a great breakfast smoothie or afternoon treat!
Gold Medalist – Stacey's Happier Healthier Version
1 ripe banana (120 cals)
3/4 cup frozen strawberries (50 cals)
1/4 cup of lite coconut milk (35 cals)
1/2 of an 8oz. can of pineapple chunks, 1/2 the juice too (70 cals)
1-2 packets (or less) of sugar (16-32 cals) or your favorite artificial sweetener (Stacey's a Truvia fan)
Blend all ingredients in blender and serve. (no ice needed – the strawberries are frozen) Makes one 10 –12 oz serving.